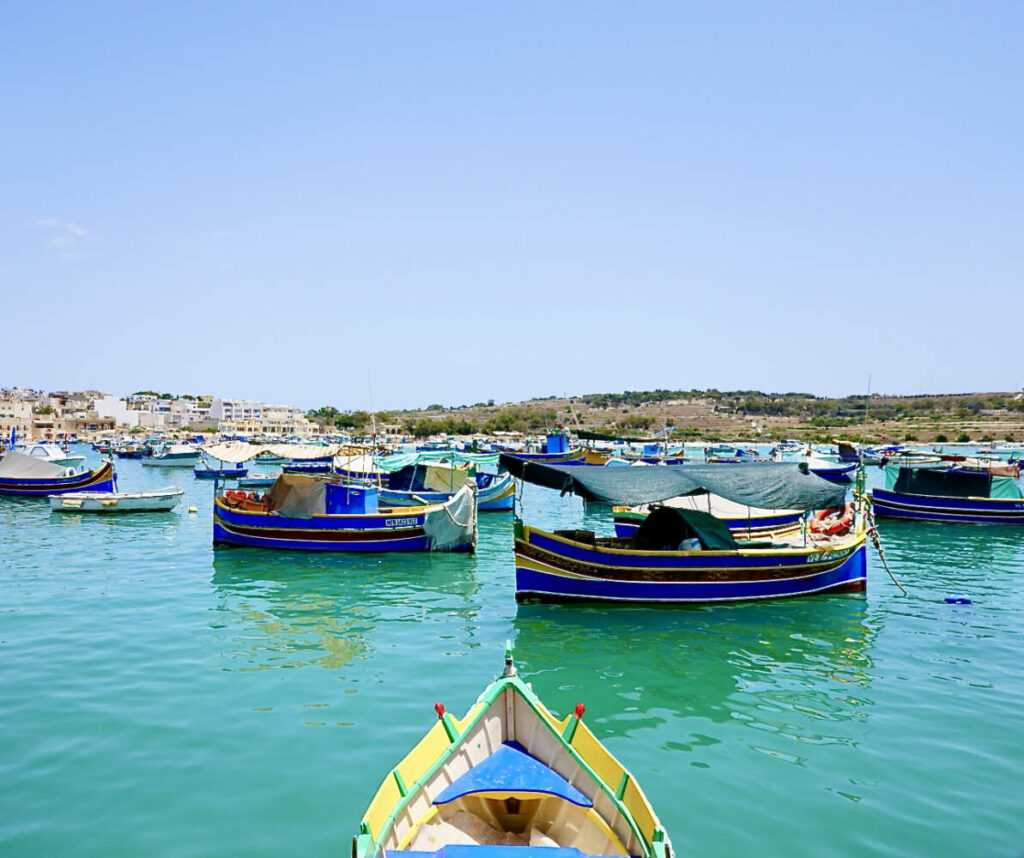 After 8 months of semi lockdown and work completely from home, this is my first trip. On the road again, what a wonderful feeling!
Valletta
Valletta is the capital of Malta and the smallest capital in Europe. I start my journey in this lovely place. The many streets, stairs and flags lead me to a pleasant center of the city. I spend the night in an old restored Maltese house that used to belong to a knight and I sleep in the room that used to belong to the servants. It sounds more romantic than it is, because it is wet and musty in my room, but I like the historical story.
In the morning I start on time to be a bit ahead of the heat, but it doesn't matter it is already warm in Malta in the early morning. I walk to the Barakka Gardens and from there you have a beautiful view over the Three Cities, actually more beautiful than when I walked through them yesterday. In the gardens is shade and a lovely breeze.
Malta has 365 churches and cathedrals so I can see a different church every day, that's what I like. The St. John's Cathedral in the center of Valletta is a truly beautiful cathedral! Every bit of ground, ceiling and wall is covered with marble, carvings and paintings. I can also take nice pictures from the balcony in the church.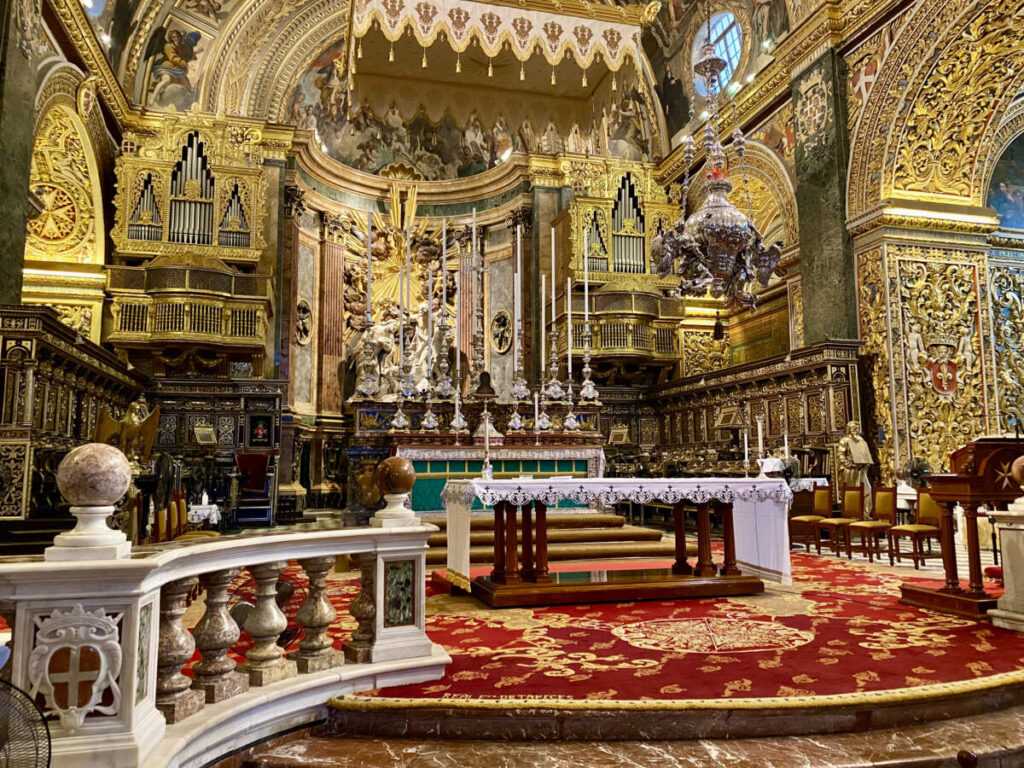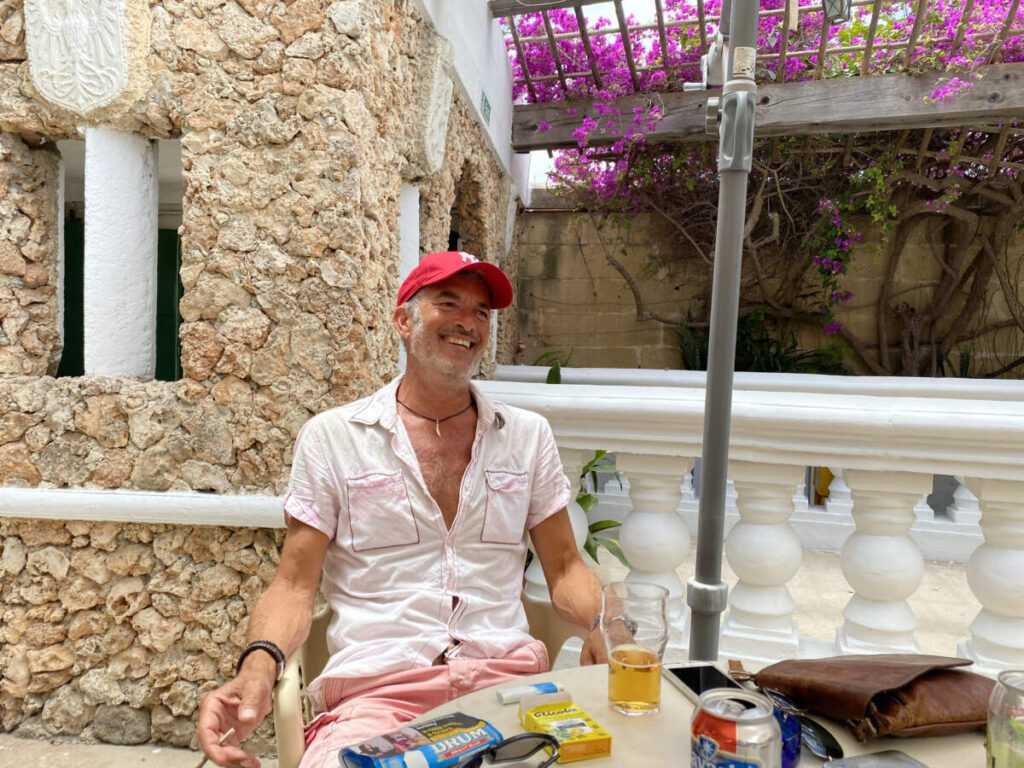 Marsaskala
Then I pack my things and go visit a friend who also happens to be staying in Malta. We sit on a terrace, I meet Ray from Malta and we drive home in a convertible. My hair is flowing, the sun is shining in my face and I feel happy. I become much happier when I arrive at the apartment; it a top apartment! Private room, 3 terraces and everywhere the possibility to sit outside. Such a luxury. It is super nice to talk to each other again after a long time and Jeroen also cooks delicious, what a treat.
There is a lot to do in Malta. A must see is Blue Grotto, it is one of my most beautiful pictures and the main picture of my blog. After seeing Blue Grotto I am immediately in the Malta mood. I continue walking along the rocky coast to Hagar Qim, an old excavation site located by the sea overlooking the island Filfla. The temple complex is 5,000 years old and probably the oldest upright structure in the world, older than Stone Henge or the Egyptian pyramids.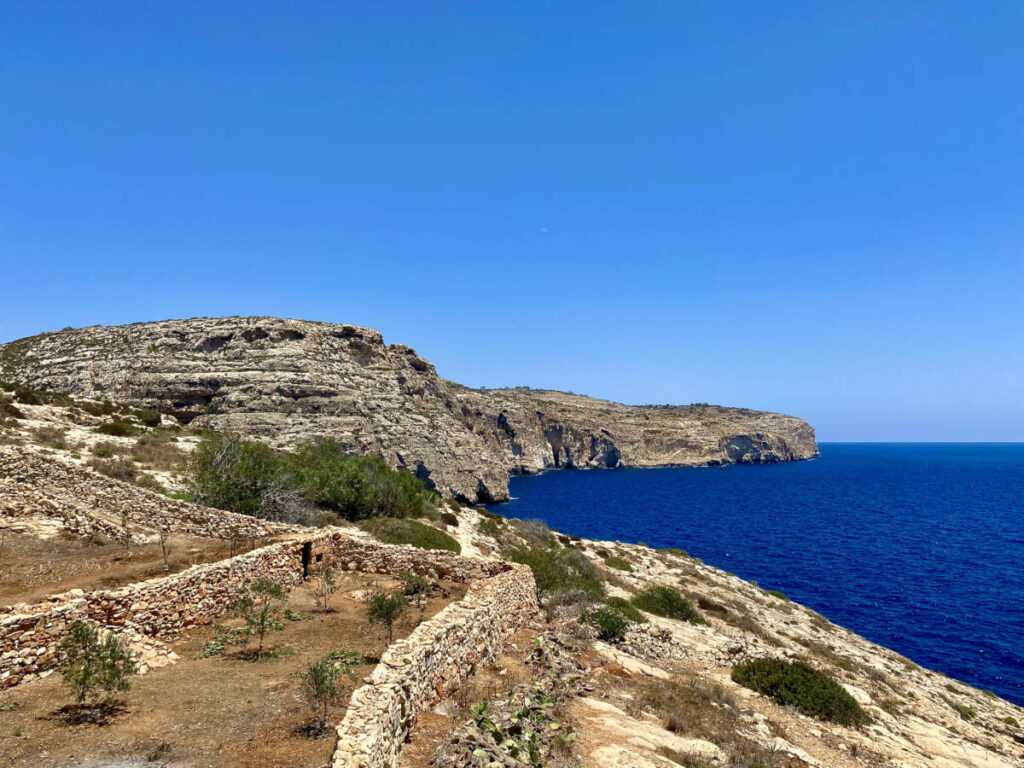 Marsaxlokk
I decide to walk along the coast to Marsaxlokk. It is a very nice route with high cliffs. There are not many beaches but plenty of places to go into the water, with a big jump or for the less fanatics via a staircase. Every now and then I see a private beach that looks like paradise. It is dusty and hot, a kind of African heat but I don't care. A cap would have been handy, man my head is hot. In Marsaxlokk I buy a hat and it reminds me of Australia 🙂 After some nice pictures of this photogenic place (see photo at the top) and a delicious fish soup I continue to St. Peter's Pool. A place where you can swim and jump off the higher rocks. I jump from the ladder into the water and I think I am fanatic enough hahah I don't like the cold water at all. Once in the water it's sooo Cool!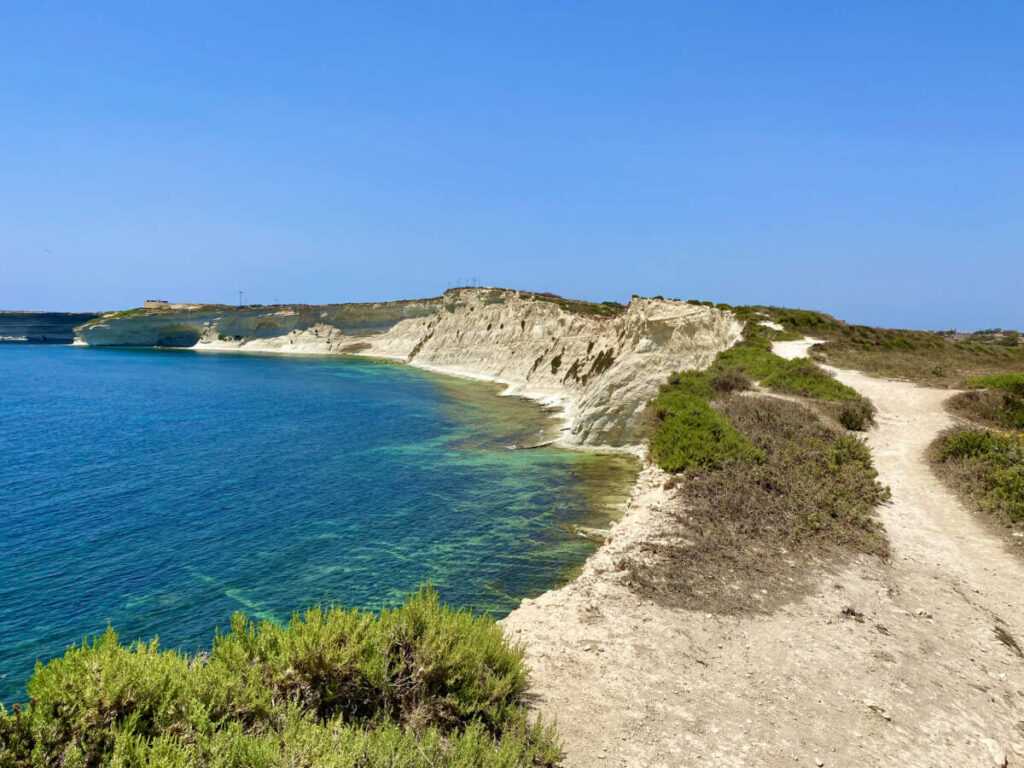 Much more Malta
Hal Saflieni Hypogeum
The hypogeum is located in the small town of Paola and it is located below an ordinary house. This unique cavern dates back to 3600-2500 BC. It has 3 levels and has been used as a cemetery and probably also as a temple. A special air system regulates the temperature, it is the first time that day that I cool down.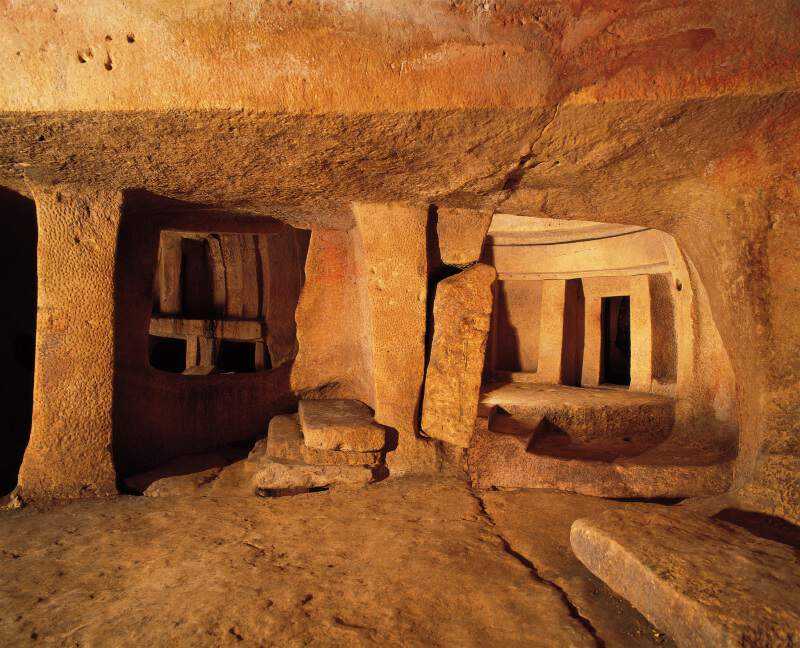 After that Mdina and Mosta Dome are on the schedule. Mdina is a lovely little Citadel and quite touristy. The historic gate of this fortress has also been used as a film location in the Game of Thrones. Then I take a look at a few churches in Rabat, a nice adjacent town. It is a church holiday there are fireworks and the churches are open for visitors. The streets are narrow and the cars drive at a fast pace, which they do everywhere in Malta. Hiking is really at your own risk! In the heat I walk another 7 km to Mosta Dome a beautiful church with a very unique structure. A bomb fell into this large round church during WWII and the bomb did not explode. The church is blessed! Well she certainly is because around the corner the bus goes to Valletta, I have walked enough today. Malta is very nice but for hiking you should go in the months April or May.
Friend Ray has completely restored his old house and we are going to see his Maltese house. He is an old hippie and his whole house is decorated that way. These houses have few windows and heigh ceilings because the heat rises upwards. And his two small Maltese dogs, what a lot of stress they have but at the same time very sweet.
You can see from my orange t-shirt that I support the Dutch national football team!
It's time to go to the other two islands; Comino and Gozo.
Comino
From the north of Malta I board the boat to Comino. The boat sails first to the caves and then to the island. He races over the water hahah that is fun! We are dropped off at the Blue Lagoon and it is crowded and touristy here. I drop my big backpack in a locker and walk to a bay at the other side of the island, it is a nice walk but very bare environment. I sit with my feet in the water for a while and realize that my bikini is in the big backpack in the locker…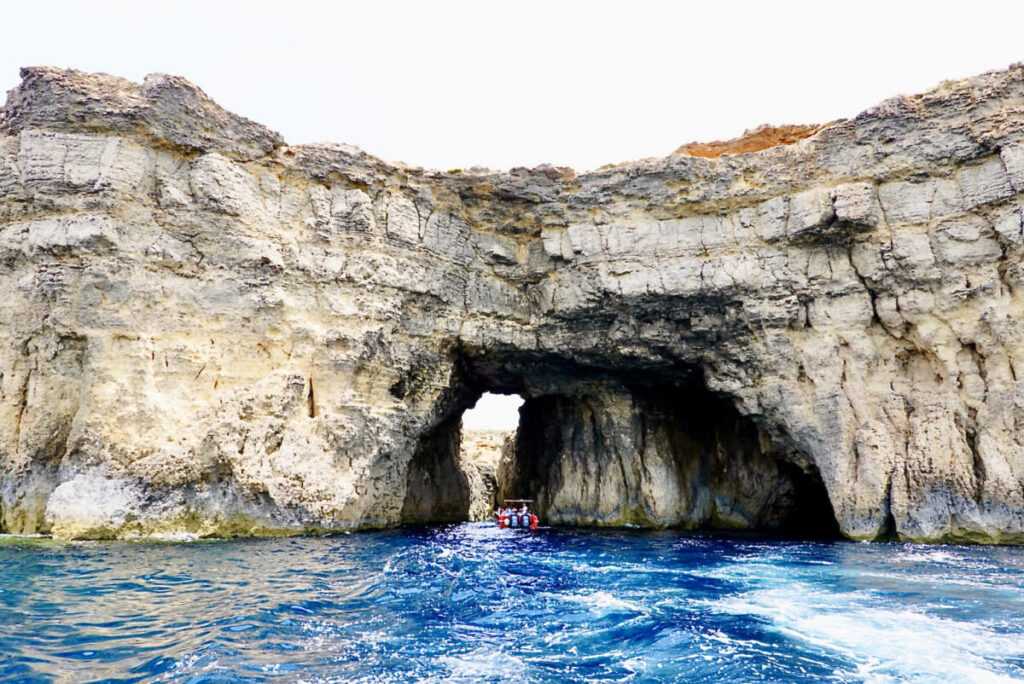 Gozo
Victoria
I am walking around in the small town of Victoria and suddenly it occurs to me that a football match is being played by The Netherlands. I look for a terrace where the match is broadcast. While I enjoy beer and pizza I see that The Netherlands wins against North Macedonia 3-0! This is going well, we are in the winning mood. In the evening the Victoria Citadel looks beautiful illuminated. In the morning I start exploring Victoria on time. What a nice town! Citadel, Basilica, churches and a sandwich in the Villa Rundle Gardens.
Xlendi
I walk with a backpack of 10 kg to Xlendi, which is about 3 km from Victoria. Xlendi has a beautiful bay, small beaches and is nice to walk around the coast. After a cooling swim I eat fish at one of the restaurants overlooking the bay, excellent!
Marsalforn
The language on Malta is very similar to Arabic, for example the name of the place Wied Il Ghasri. It is a remote bay with a small beach. After Wied Il Ghasri I continue my way via the coastal path to Marsalforn. I see many salt pans in Zebbug and after too many pictures I arrive at Marsalforn around 1 PM totally soaked, walked 15 km and it is 35 degrees…
Bye bye Malta
In St. Pauls Bay I'm going to cool down for 2 days. I have booked a hotel room with airconditioning, refrigerator and swimming pool in front of the door. In the center of the sea side village are many shops and terraces. I also visit Jeroen to relax for a day and watch a football match together, The Netherlands loses the match… too bad my t-shirt can go back in the closet.
While I am on the plane I mostly write my blog. I am completely in the travel mood, how I love this feeling and what a wonderful time I had. Malta is highly recommended!
Do you want to see more photo's? Follow me on FB or Insta!