Lourdes
Before I start the Camino del Norte pilgrimage route, I am in Lourdes, a city full of pilgrims. I also love churches, so a city I've always wanted to visit!
In Lourdes there are 3 churches built one above the other. I visit the Rosary Basilica and the enormous Basilica of the Immaculate Conception. Then I go to la Grotta and fill my water bottle with water from the sacred cave. In the piscines du sanctuaire Notre Dame I get a bath from the nuns and drink the blessed water. I burn a large candle and it feels like a blessed start to my journey.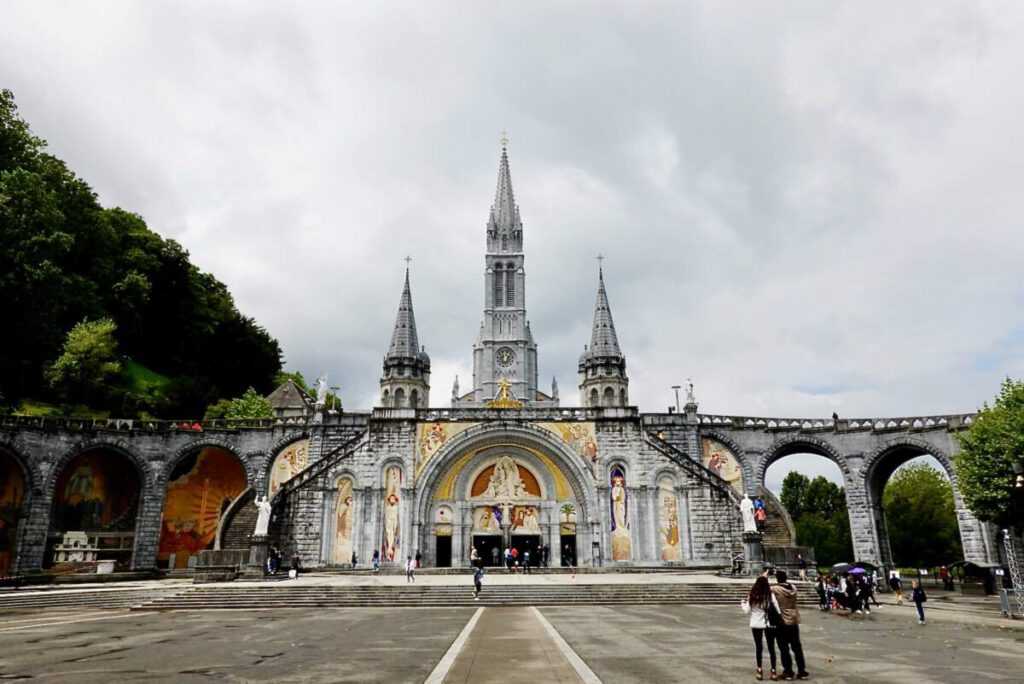 Camino del Norte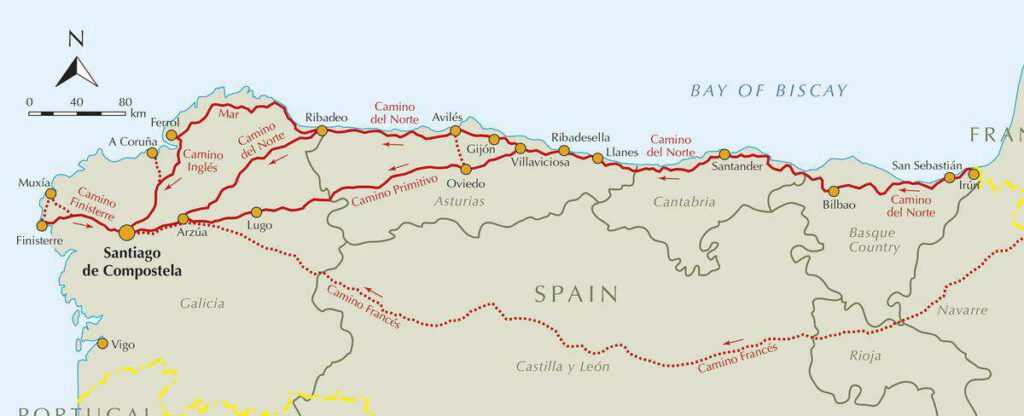 The first part of the camino to Bilbao is very beautiful! There are few buildings in the Basque Country and I walk a lot in nature. It is a hilly area with a nice ocean view (Bay of Biscay), especially on top of the Jaizkibel hill at 550 meters. Every now and then I walk through the forest, how I can enjoy this!
In trendy San Sebastian I walk along the boulevard and enjoy delicious wine with fresh fish pintxos (tapas). The pelgrimage already tastes good! Through the vineyards I walk to Zumaia where I camp and have a beautiful view of the impressive cliffs of Zumaia.
After walking all day in the rain, I arrive in Bilbao. What a relaxed city! I spend the night in a cozy hostel and all wet stuff can dry again. The next day I go to explore the city, old streets, churches, bridges beautiful! It's Sunday morning and super quiet, a wonderful start to the day.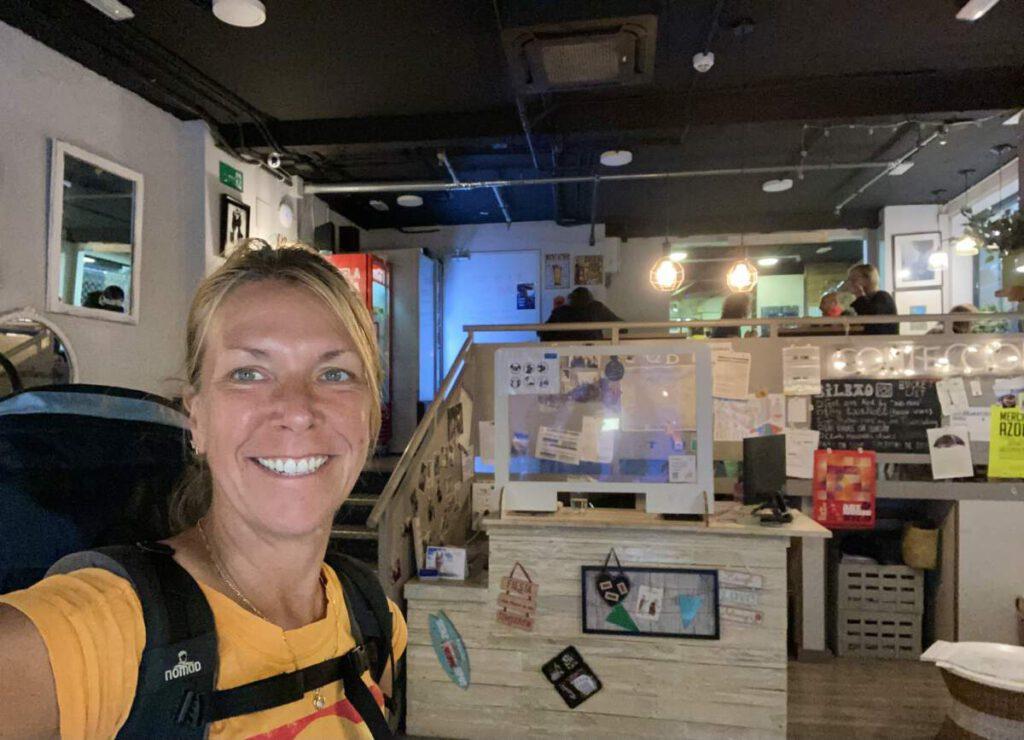 Bilbao – Santander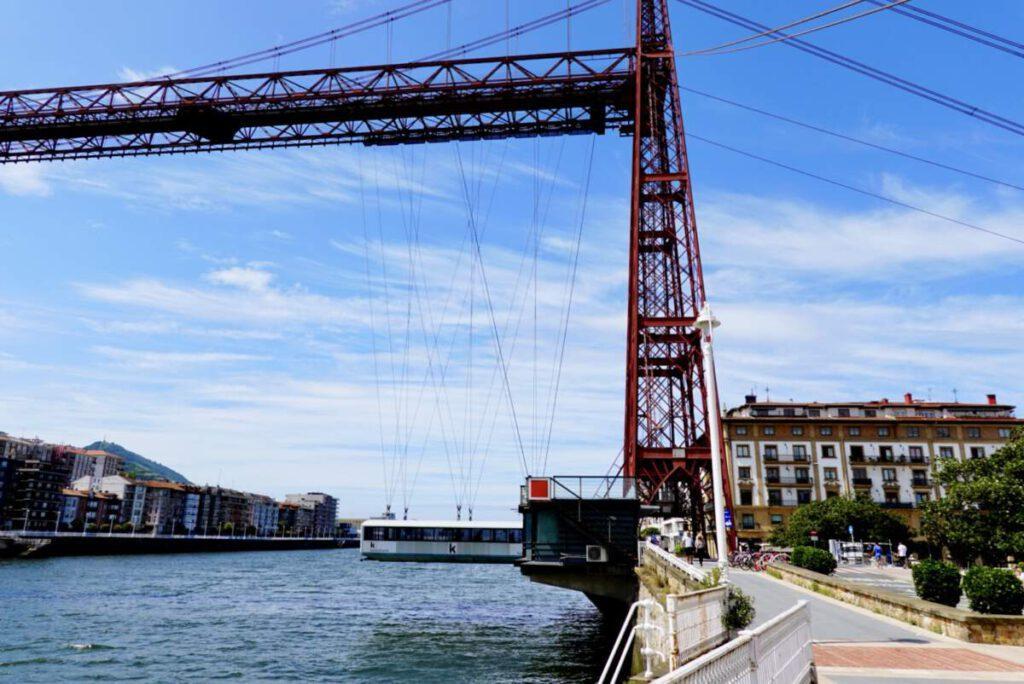 I walk in my hiking clothes and notice that I don't feel it is the nicest outfit to visit the museum, a bit a-relaxed. So I continue my route to Portugalete. It is a special walk because suddenly I am overtaken by the cycling round of Getxo and I travel for the first time with a floating ferry. But it can get even crazier, because after that I'm on a conveyor belt for the first time outside in the steep streets of Portugalete. Really handy after a day of hiking!
I walk towards Santander and enjoy the beautiful view of the sea and the valley. The route also runs over a lot of asphalt, I have omitted these photos, you can probably imagine something 🙂
With the third ferry on the route I cross over to Santander. That's going well, I love ferries!
I visit the old Santander Cathedral, get a stamp for my pilgrim passport and enjoy the special welcome for pilgrims.
Santander – Unquera
The north coast of Spain is popular with surfers. Last night I was at a surfer's campsite and I didn't sleep well. Unpleasant start, my bag feels heavy, my back hurts and my washed clothes are still wet, I'm done camping for a while. I just put on my wet clothes and go for a walk. Around 10 am I eat a fresh breakfast with hot coffee and I recover completely. The accommodations are scarce because of Corona and I realize that the tent is my freedom, even though this freedom weighs quite a lot at the moment.
Tomorrow I will turn to Pico's of Europe and walk Camino Lebaniego for a few days. Do you want to read my blog about this beautiful walk? This one will follow asap!
Unquera – Oviedo
From Unquera I continue my journey. I have decided to send my tent and some extra stuff home and my bag is 3 kg lighter. Wow that's a big difference! Walking is going really great now, I feel fit and all aches and pains are gone.
The camino walk is gorgeous, I feel happy and I'm looking forward to my fourth camino adventure. In 2017 I walked camino Frances, last week camino Lebaniego and now camino del Norte.
The last day I leave early, it will be a long walking day. Along the way I have plenty of time to reflect. I close this part, reflect on the past weeks, fantasize about new journeys and after 530 kilometers I celebrate my arrival in Oviedo. Bye bye Camino del Norte, bye bye beautiful Bay of Biscay!
Overnight places
Irun – San Sebastián – Zarautz – Deba – Markina Xemein – Eskerika – Bilbao – Portugalete – Santullan – Santona – Somo – Boo de Pielagos – Comillas – Colombres – Vidiago – Pineres de Pria – La Isla – Villaviciosa – Oviedo.
Would you like to read the continuation of my walking trip? This blog will follow asap!
Do you want to see more photos? Follow me on FB or Insta!