Easter Island
Easter Island is a Polynesian island in the great ocean and belongs to Chile. The island is about the same size as Texel (NL) and its location is one of the most isolated islands in the world. From within the air plane I see a small speck in the ocean and sure enough, that's the place where we will be landing.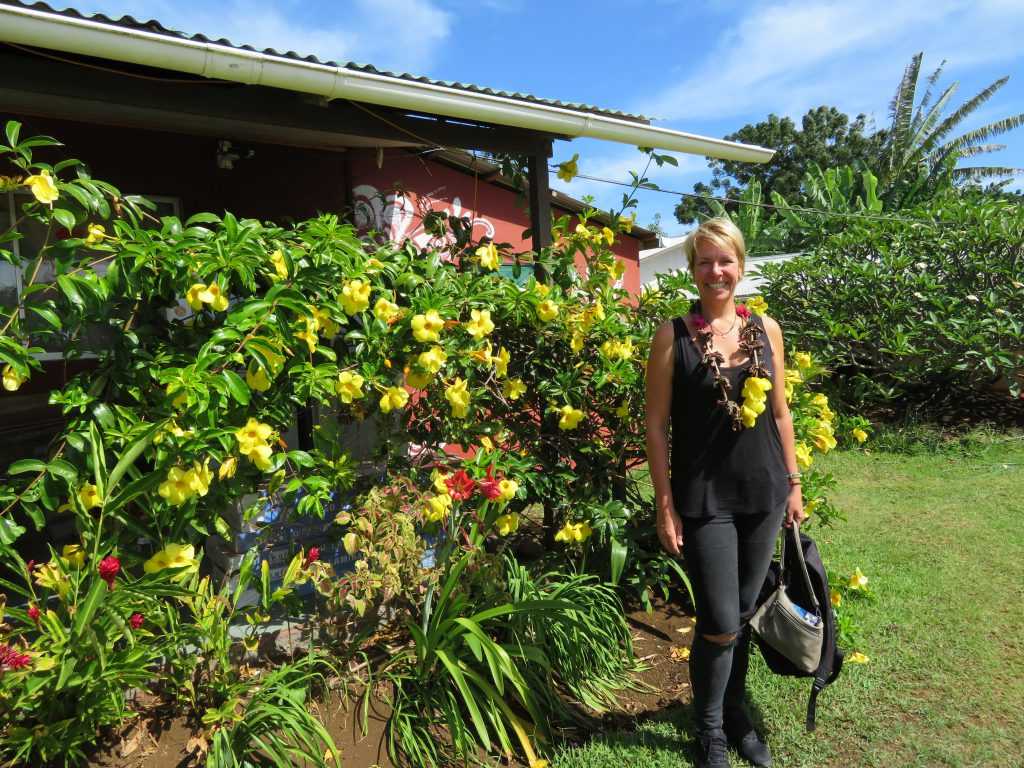 The temperature is very comfortable and upon arrival I am immediately greeted with a flower necklace.
Everywhere on the island you can see the Moai Statues, these statues were made from volcanic rock somewhere between the 11th and 17th century. Often there are multiple statues in a row and especially near the sea with a sunset or sunrise backdrop it will result in spectacular photos!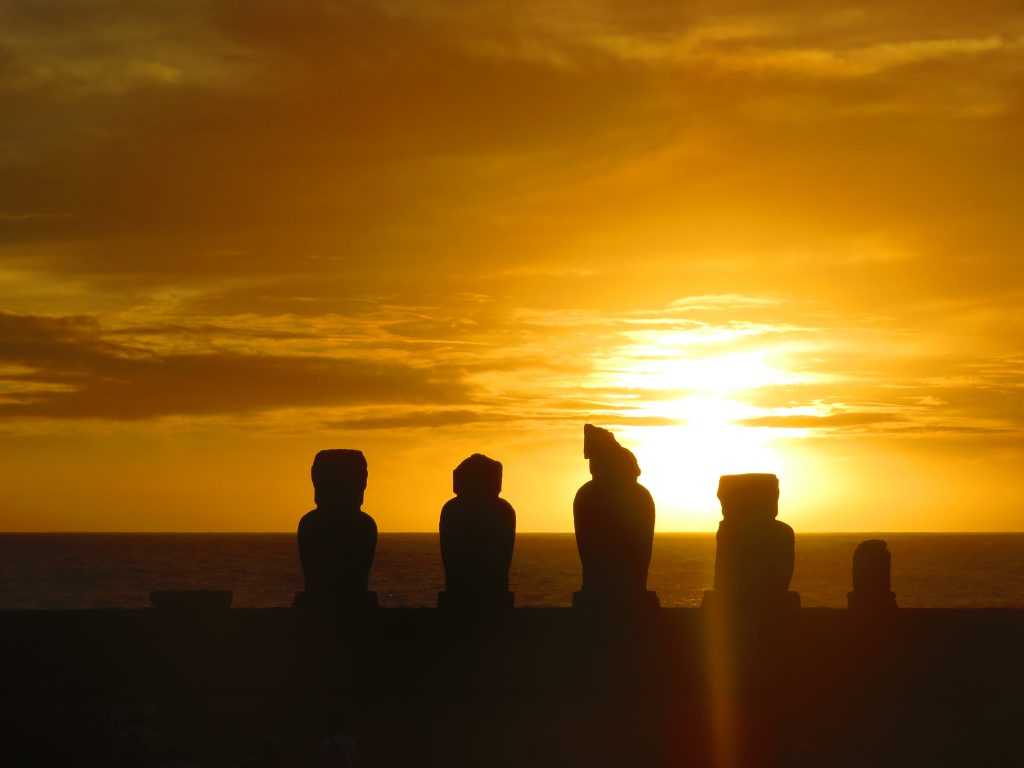 There is a garden filled with statues where a part of the statues are standing next to each other and some are lying down. Some of these statues are 10 meters tall.
As I go walking for a day I walk up a serious hill. What a beautiful view across the island! The distances are a bit longer than I imagined and I get a ride from the kind and friendly man in the oldest car I've ever seen. I hold on to the door during driving as it might fall of the car 🙂
The following day I rent a small car for a few days and drive around the island. Easter Island is one big nature reserve. The horses and cows often walk around freely. There are many different caves and some have openings to sea. Everywhere on the island there are volcanoes, these are not active and some craters are even transformed in a small lake.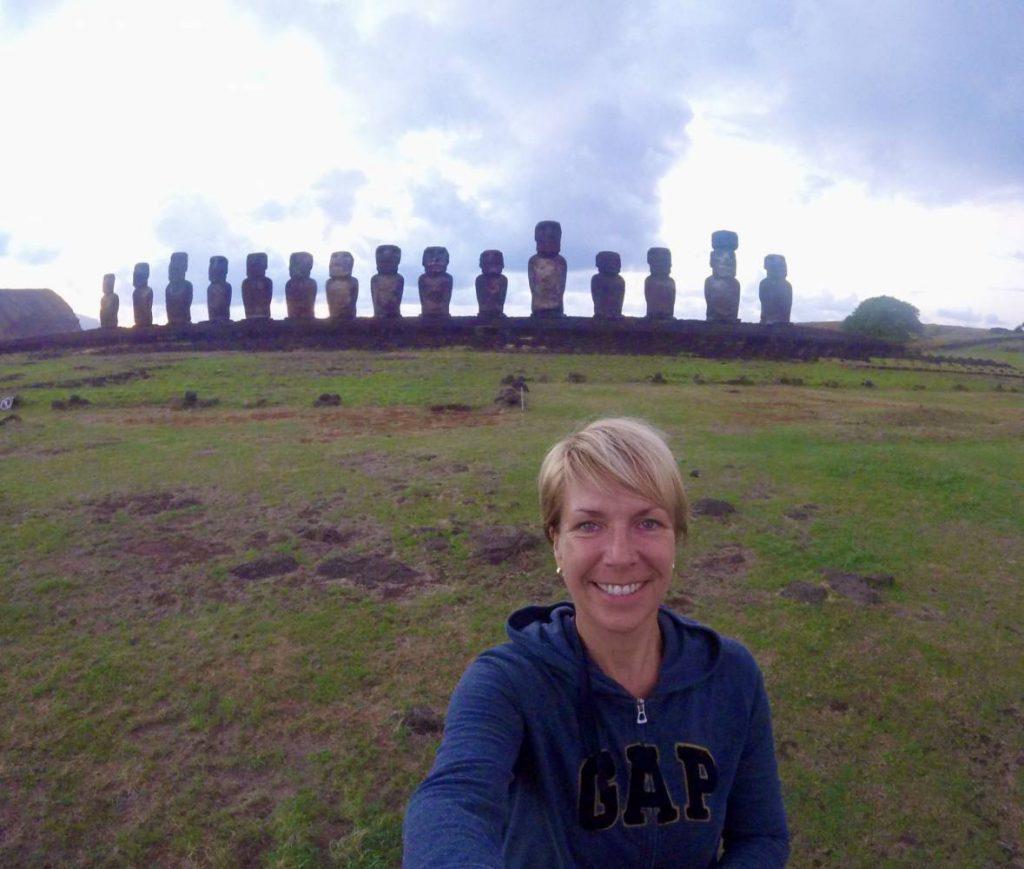 In the early morning I drive to Tongariki and see a sunrise I will never forget. Partly because of a plague of mosquitoes, but I stayed my ground the entire sunrise!
See picture above.
In the evening I visit a cultural show, where the local inhabitants of Easter Island dance in traditional clothing. The women dance in a wicker skirt and the men wear feathers and spears and not much else… I'm invited to come up to the stage and dance along, a lot fun, but I'm dancing a bit less rhythmically than the average local. Thankfully there aren't any pictures of this 🙂
Although it has been a really nice week, I still feel a bit confined because the island so small and far from the rest of the world. I'm ready for my departure, which brings me to the Iguazu Falls!
Iguazu Falls
Iguazu
I arrive in a nice hostel with super welcoming hostess Lily. Normally I'm not really a group person, but this time we drink a beer together and let myself even be seduced to cooking and eating with the others. Why wouldn't I?
The Argentinian like to drink herbal tea; Maté. This cup with many spices and hot water goes around and we all use the same straw. It's a gesture of hospitality and I feel more than welcome.
In the morning the host of the hostel brings me to Park Iguazu. It's a huge park and I walk the route where I get closer and closer to the largest of the waterfalls.
Devil's Throat
The name of the largest fall is the Devils throat, it's a big half round waterfall which is 150 meter wide and the water drops down about 70 meters.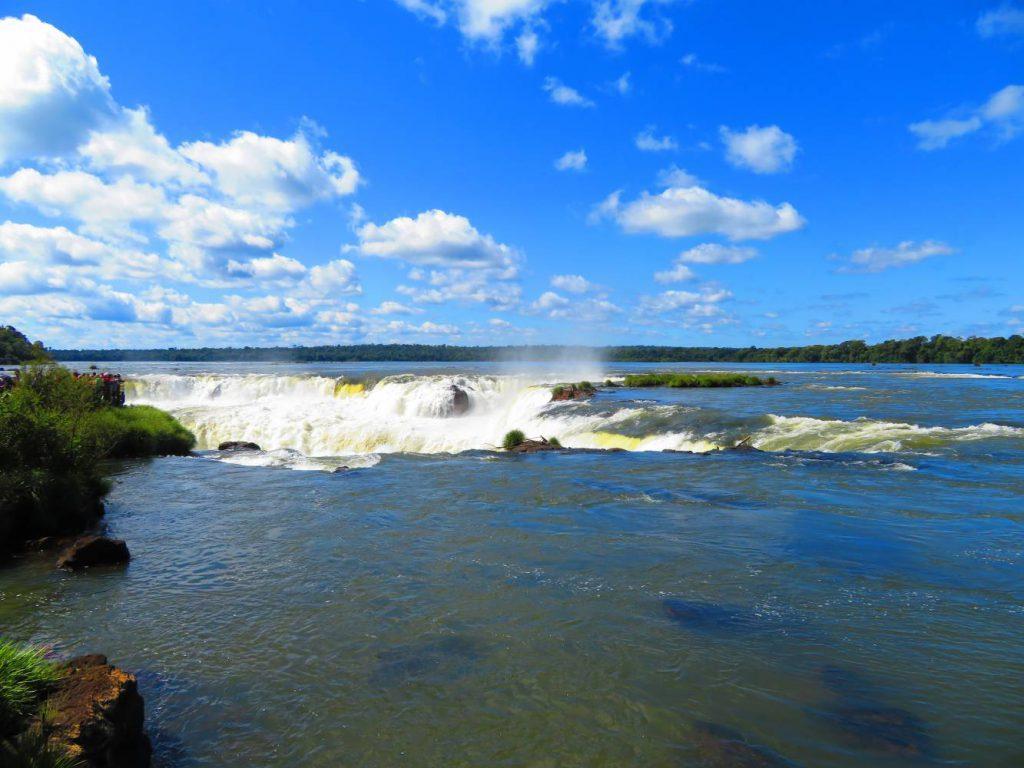 In the park there are a lot of butterflies and funny enough they keep visiting and sit on me. Even enough time to make a selfie. Too much fun!
I decide to go on the boat. You are advised to put on a raincoat. I can tell you this doesn't help at all, you leave the boat fully soaked. The boat actually goes through the falls! I'm laughing out loud 🙂 🙂
Taking a bus I'm going from Iguazu to Brasil for one day! In Brasil there is also a fantastic view upon the waterfall. I see so many things and take way too many photos. Photo's which in hindsight look quite similar, so I decide to post another one.
End of my journey
Once arrived in Buenos Aires I'm not able to enjoy the city life after seeing this much nature. It rains all day in Buenos Aires and after walking in the rain for 5 km, the museum I wanted to visit was closed. Okay, is it going to be such a day? The government of this country is in a bit of turmoil and because of that banks don't always have money in the ATM's. Eventually I spend the rest of the afternoon searching for a bank that still has cash money. While I'm stressed to find the busstation, a bird poops on my last clean shirt. What a day, I put on a bit less clean sweater and decide to just laugh it away 🙂
In the bus towards the airport I look back on an excellent roundtrip through two special countries with lots of nature, culture and varying weather conditions. Definitely worth visiting once more!
Do do you want to read part I of this roundtrip Patagonia? https://www.marianaroundtheworld.com/en/america/south-america/argentina-chile-and-easter-island-a-journey-with-stark-contrasts-i/
Do you want to read part II of this roundtrip Santiago de Chili en San Pedro de Atacama? https://www.marianaroundtheworld.com/en/america/south-america/argentina-chile-and-easter-island-a-journey-with-stark-contrasts-ii/