Departure Kijkduin
It's 2015 and all of a sudden I'm able to take two months of my current job in Zeeland. This is great news and I immediately plan a small trip. This time I'll go to Paris by foot, it is going to be the first part of my pelgrimage to Santiago de Compostela. As this idea is quite impulsive I don't have a lot of time to prepare. In two weeks time I gather all my stuff and when juli 2015 starts it is finally time to leave.

I grab my backpack, lock the door and leave for the south.
In Schipluiden I visit the first church and from there on I walk the official Pilgrimage route. There's a nice small book available with all the pilgrim roads and you can also download all the routes on the website www.santiago.nl.
I haven't pre-booked any place to sleep and it feels as free as a bird. In the afternoon I calculate how many more kilometres I'll walk that day and book an accommodation somewhere near. It's nice adventure like this.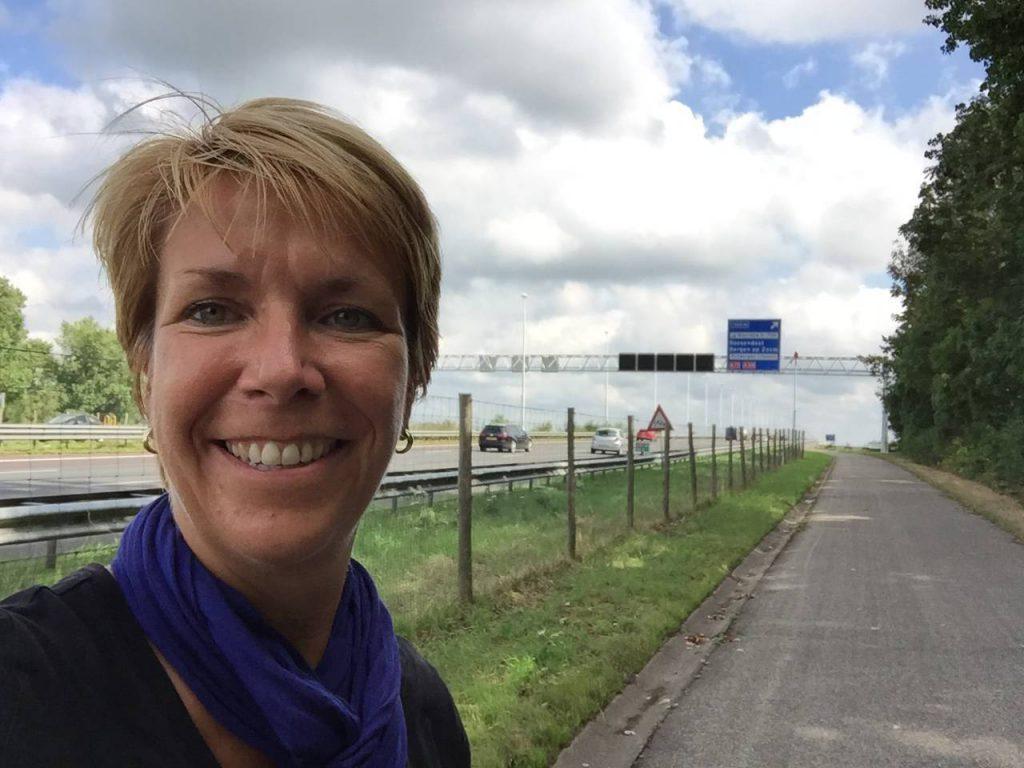 The second day I spent my night in one of the famous cubical houses in the centre of Rotterdam and when the early morning starts I cross the Erasmus bridge and head to Zwijndrecht. I've just started but it already feels like bliss!
With a ferry I cross the river to Dordrecht and for the first and probably the last time I walk across the Moerdijk bridge. The distance between me and the cars is very little and they drive quite fast. I'm a bit scared.
Beginnersmistakes
In the first few days I make a lot of beginner mistakes. For example, I'm having a beer on a terrace while I still have to walk another 5 km. Pfff what a mistake, I can really feel that beer in my legs. Of course I want to look the part while walking, so I wear short jeans the first few days. This is not a soft fabric so I get abrasion spots on my leg. Navigating needs getting used to as well and sometimes there is a detour because of construction and I have to walk 2 to 3 km more.
I teach myself not to aim for just one goal, a certain amount of kilometres or a specific time of arrival. It's always just a bit further than previously thought.
Of course my bag is way too heavy, but the biggest mistake are my shoes. They cause blisters, a lot of painful blisters. After sleeping a night in Roosendaal I wake up with two inflamed toes, it doesn't look right (nasty even) and I decide to go to a doctor. (I won't show you the photos). He said I was crazy and told me to quit right away, but after my appeal I receive an ointment. I should carefully monitor it the next two days and if the fever and redness go away I'm cleared to continue.
Yessss, the ointment really helps and after a few days of taking it easy, my feet have been able to recuperate a bit. Besides the pain in my feet, I'm feeling quite well. I decide to buy different shoes as soon as possible and to further enjoy this excellent journey.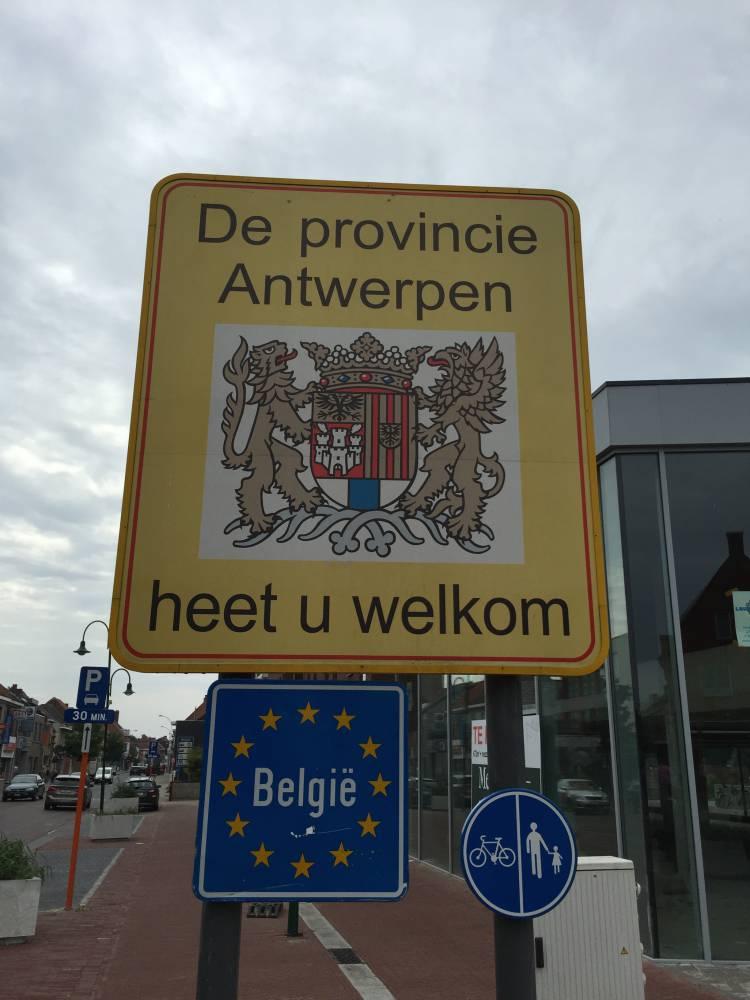 Antwerp
Just before I reach Antwerp, I find myself walking in the harbour of Ekeren-Antwerp, which is not so nice. At the first hostel I encounter I decide to spend the night. There is only 1 room available, because Antwerp is full with dance music lovers, the festival Tomorrowland is that exact weekend. It's a hard pill to swallow as this is a big festival which I have wanted to visit for years now. Currently I'm really nearby but there are no more tickets available. I decide to visit Antwerp city for two nights and enjoy a bit of the sidelines of the festival vibes as an alternative. I've met up with some friends and before they go back to the Netherlands I hand over 3 kilo of my stuff to take home.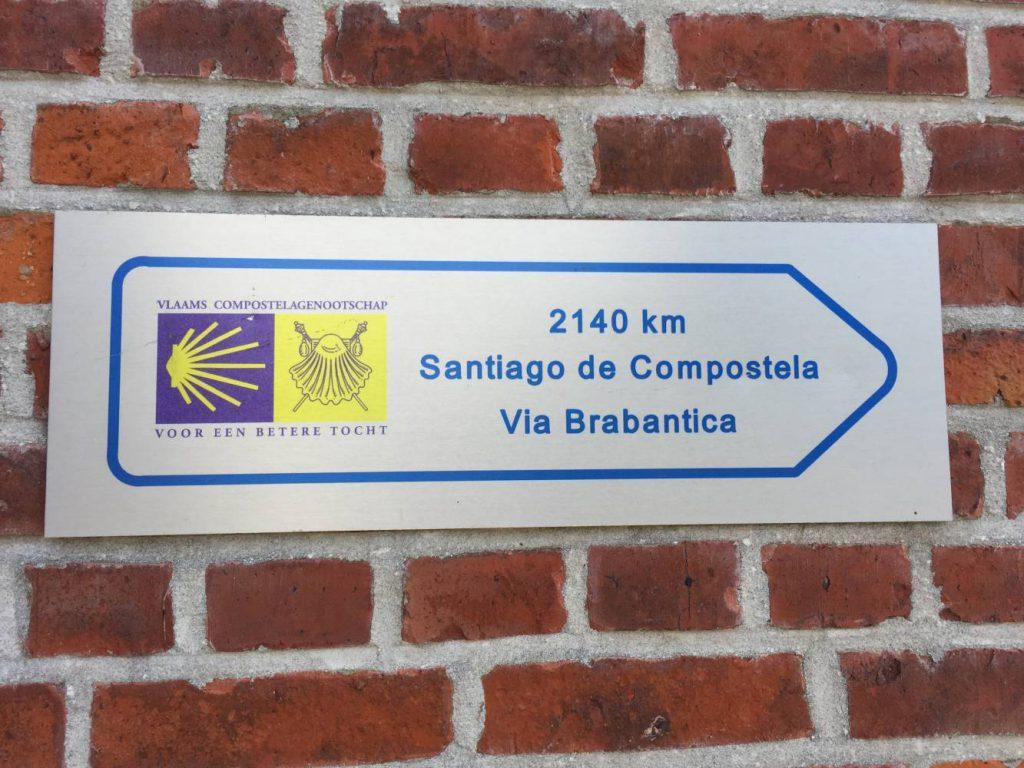 Looking back at a great weekend I walk smiling through the pouring rain to my next place to sleep. It's only a 12 kilometre walk because I meet some sweet people while having drink that offer me a place to sleep. We eat together and go through family pictures. I have to admit this doesn't really fit the description of a pilgrimage, but I love it.
Along the way I look at the many churches that come upon my path. The church in Oudenbosch is even worth a detour. In Oudenbosch there is a small replica of the St. Peter of Rome, incredibly large such a basilica in Brabant. Definately worth visiting at least once. It's feels not dutch at all and very impressive.
In the town Grimbergen I'm having a Grimbergen ale for sure. This one also drops right down my legs and during the rest of the hike I can feel it more than I hoped for. But it tastes so good!
Brussels

Then I arrive in Brussels, Wow this city is so much more fun than I imagened. I stay a day longer than planned and make a small city trip out of it. The big market, St. Katelijne square, Japanese tower, Atomium, the palace, Chinese pavilion, Munt Square and of course the statues of Manneken & Jeanneke-Pis cannot be missed.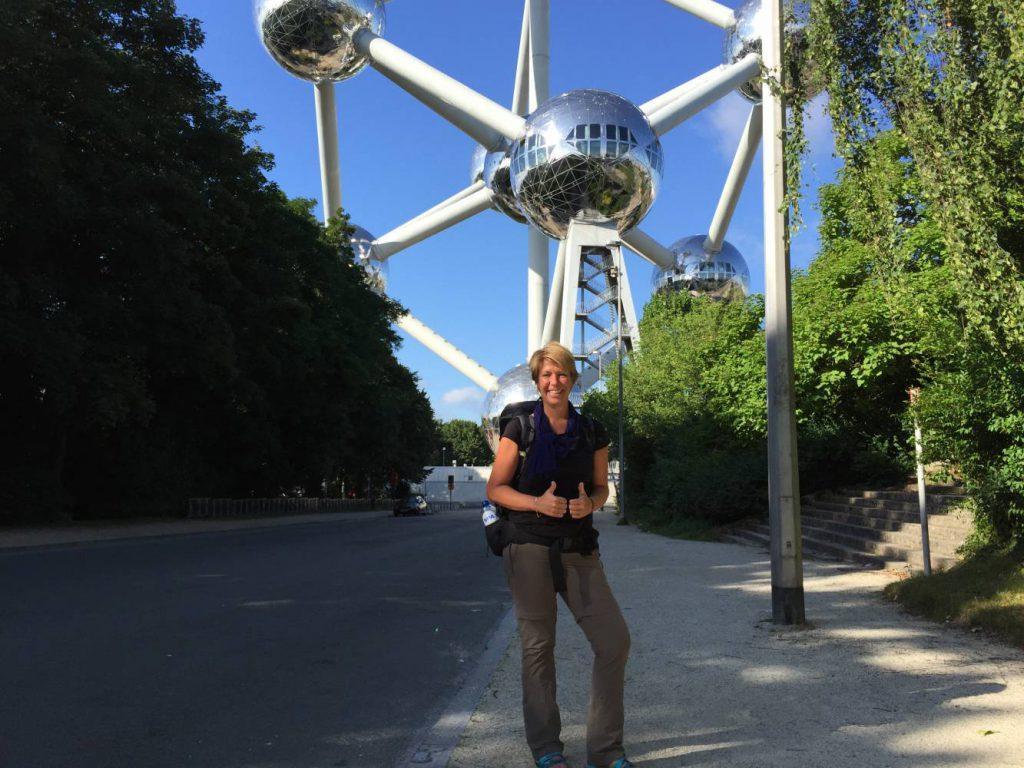 France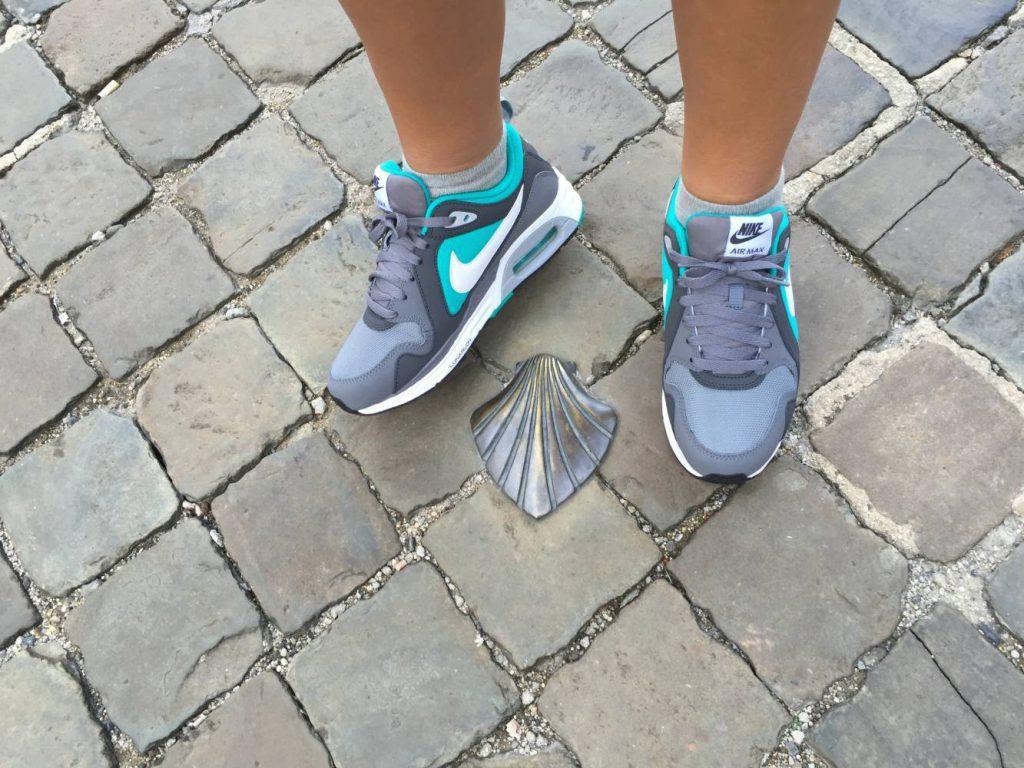 I arrive in France. What a difference with the Netherlands and Belgium. The cafe-bars are closed (no coffee, toilet etc.) and the villages seem to be deserted. I do not speak french and have to get used to this new situation. In the 3rd week I find a store where I can buy new shoes. Nike Airmax, not really walking shoes but they seem to fit better than my current shoes. A good idea, because I've been blister free for 3 days.
The silence and being alone makes me uneasy at times, but also allows me more time to myself. Thoughts come and go and on the routes where no traffic is around, it sometimes feels like meditation while walking. I'm finding my peace.
I also meet other people walking and biking their way to Paris, it is a nice to be able to share experiences.
In France I plan my stay overs more upfront, because there are a lot less places to do so. And this way I can walk from sleeping spot to sleeping spot.
I try to find the places closest to my route. Sometimes it is in a dormitory especially for pilgrims or a carriage, and when I encounter a small castle grab my chances and book a night. Chateau Raray is part of the golf court next door, oops I'm a bit under-dressed. The staff is lovely! The kitchen is already closed and the next restaurant is 5 km down the road. Ah oui, you cannot walk anymore? And promptly they are serving a delicious salad.
Paris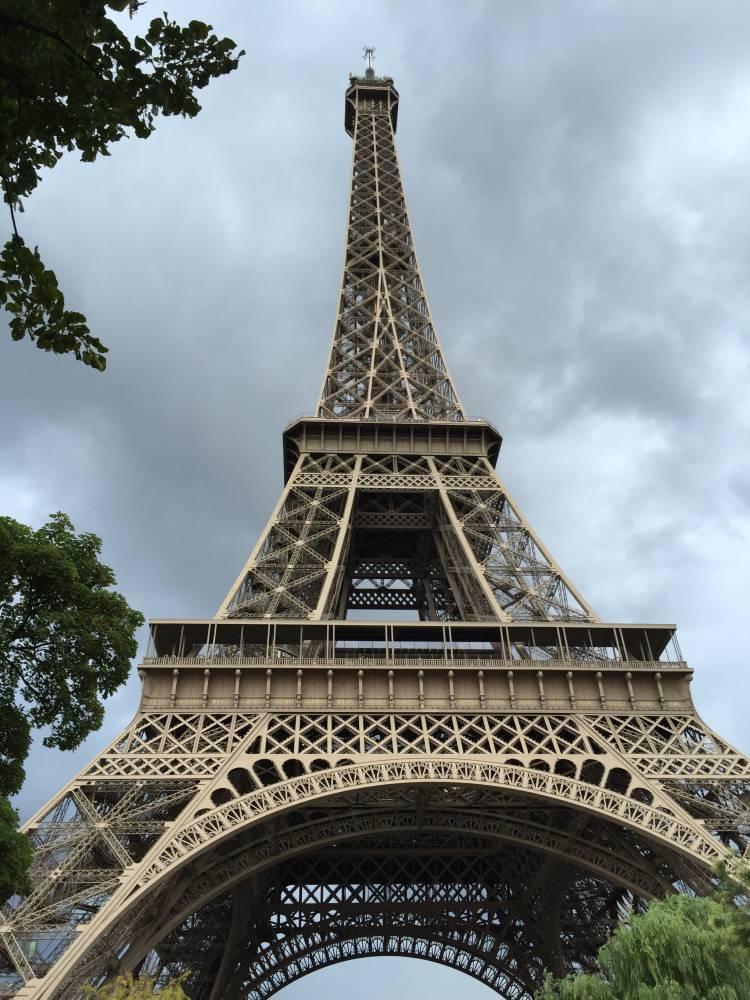 My feet are still hurting and by now I have new blisters almost every day. Even while wearing my new shoes. Sometimes early in the morning, I make a wrong turn, and I worry about the extra kilometres I have to walk because of this.
When I see the eiffel tower for the first time at a freat distance I get an energy boost. The pain seems to fade away and with a big smile on my face I walk the last 25 km through the fields.
Fresh morning in Paris.
I have to adjust from walking in the remote areas to the hustle and bustle of a big city. The following days I will spend my time as a city trip and visit the Notre Dame and the Sacre Coeur. In both churches I receive a pilgrimage stamp. After Arc de Triophe I walk all the stairs in the Eiffel tower and get soaked by a lot rain. On the Champs Elysees I buy something new for the show at Moulin Rouge. What an impressive city!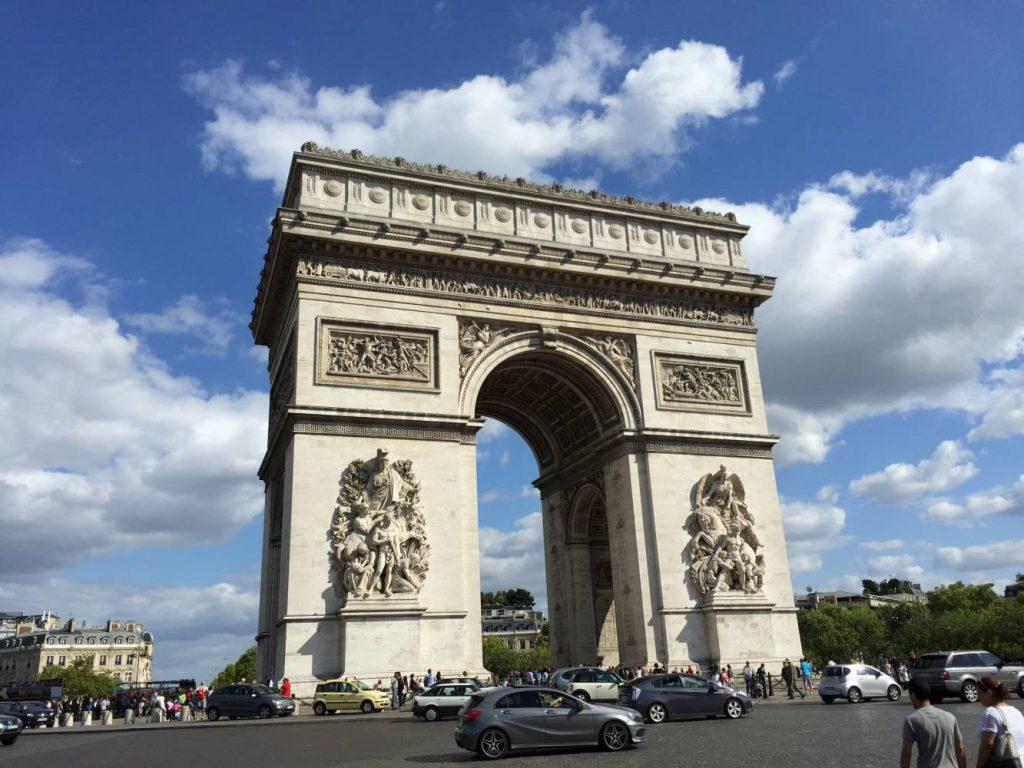 Very content I look back at four excellent weeks and the 600 kilometres I've conquered. I know for sure that I should continue this journey one day. Santiago de Compostela, here I come!
Here you can find the second part of my trip to Santiago de Compostela. https://www.marianaroundtheworld.com/en/europe/to-santiago-de-compostela-part-ii/
Or are you looking for part 3 of my trip, then click the link below. https://www.marianaroundtheworld.com/en/europe/to-santiago-de-compostella-part-iii/
Route
Netherlands
Kijkduin – via Schipluiden – Vlaardingen 25 km / via Schiedam – Rotterdam 20 km / Zwijndrecht 20 km / via Dordrecht – Moerdijk 25 km / Zevenbergen 10 km / Moerdijk – via Oudenbosch – Roosendaal 20 Km / Bergen op Zoom 15 km / Ossendrecht Abdij 20 km
Belgium
Ossendrecht Abdij – via Kapellen (grens) – Ekeren 20 km / Centrum Antwerpen 10 km / Edegem 10 km / Mechelen 18 km / via Grimbergen – Strombeek Bever 22 km / Centrum Brussel 15 km / via Beersel – Buizingen 20 km / via Halle – Grambais 25 km / Seneffe 15 km / Binche 15 km
France
Maubeuge 25 km / Taisnieres en Thierache 20 km / Le Cateau Cambresis 20 km / Bohain en Vermandis 20 km / Saint Quentin 25 km / Han 20 km / Noyon 25 km / Campiegne 25 km / Raray 25 km / Coye la Foret 25 km / Sarcelles 25 km / Centre Paris 15 km.