I would like to travel to new countries, so I am happy that I can make a round trip in Slovenia on my way to the Balkans. A new country to discover, I'm super excited!
Triglav National Park
The next day I drive the route to Trenta and that's cool! A mountain pass with no less than 50 hairpin bends, a lot of gear changes and I drive quite often in 1st gear, I love it! This Vršič pass at 1,611 meters is the highest mountain pass in Slovenia and is located in the Julian Alps. I enjoy the beautiful views between the rain showers.
Trenta
Trenta is a village in the Triglav National Park and the campsite is on the Soca Trail. That is a nice walking route along the emerald green Soca river. So in Trenta we walk a lot. We walk part of the Soca trail in two different directions and there is also a path behind the campsite into the woods. Leo can usually walk without a leash because I hardly meet anyone. Walking, nature, silence makes me so happy…
Bovec
After two days we leave for Bovec, also in the Triglav Park and also on the Soca Trail. This time we have a spacious camping spot, I estimate at least 50m2! During the walks I enjoy the Slovenian landscape, the beautiful Soca river and that the many (old) hanging bridges also linger when you walk over them 🙂
Dutch Jeroen, whom I visited in Malta, has a Slovenian girlfriend. You guessed it, he is in Slovenia right now, very nice! We meet in Bovec and have a nice chat over dinner.
Napoleon's Bridge
Then a lovely winding route without it being steep, that's a nice ride! Napoleon's Bridge at Kobarid is beautiful, especially the view from the bridge. The water is so clear and has such a beautiful color, really great! Napoleon's troops once marched over this bridge hence the name.
Slap Kozjak waterfall
From there we walk to the Slap Kozjak waterfall, a nice walk through a park with the reward of the waterfall in a green lake between large boulders, it looks magical!
From Devil's bridge I have a beautiful view over the gorge, watch this video!
Lake Bled & Lake Bohinj
We drive on to Lake Bled a beautiful lake! From the Panorama restaurant amazing view but a lot of clouds and then unfortunately rain again. Bled is also very touristy so we continue to Lake Bohinj. Again a very beautiful lake! The sun is now shining, people are supping, swimming and we are going for a nice walk around the lake.
Pohorje, Maribor
We are at the campsite in the Pohorje ski area in Maribor nearby the gondola. Great that's handy! It is a relaxed campsite, I first arrange some camper stuff and then it is already the end of the afternoon. On the advice of the locals we walk up the mountain to the first mountain hut and down again. Good idea that is a great workout!
Good times with the locals, Maribor
The next day I walk from Pohorje to Areh. At the gondola I meet Nina and we walk together. She is a Slovenian and we have a lot to chat about, super nice. We have a coffee at a donativo bar with a fantastic view! After lunch I walk alone for a while and on the way back I meet Bozidar the man from the donativo bar. He offers another drink and also shows me a piece of Maribor. He tells about his job as a lobbyist in the former Yugoslavia and on the way he cuts a rose for me haha what a great guy!
Rogla
But all fun comes to an end because I continue to Rogla. I walk to Lovrenska Jezera, a swamp area. It is a lovely walk through the forest and with clear route indications. At the wetlands there is a lookout tower and you can walk between the many lakes. Beautiful!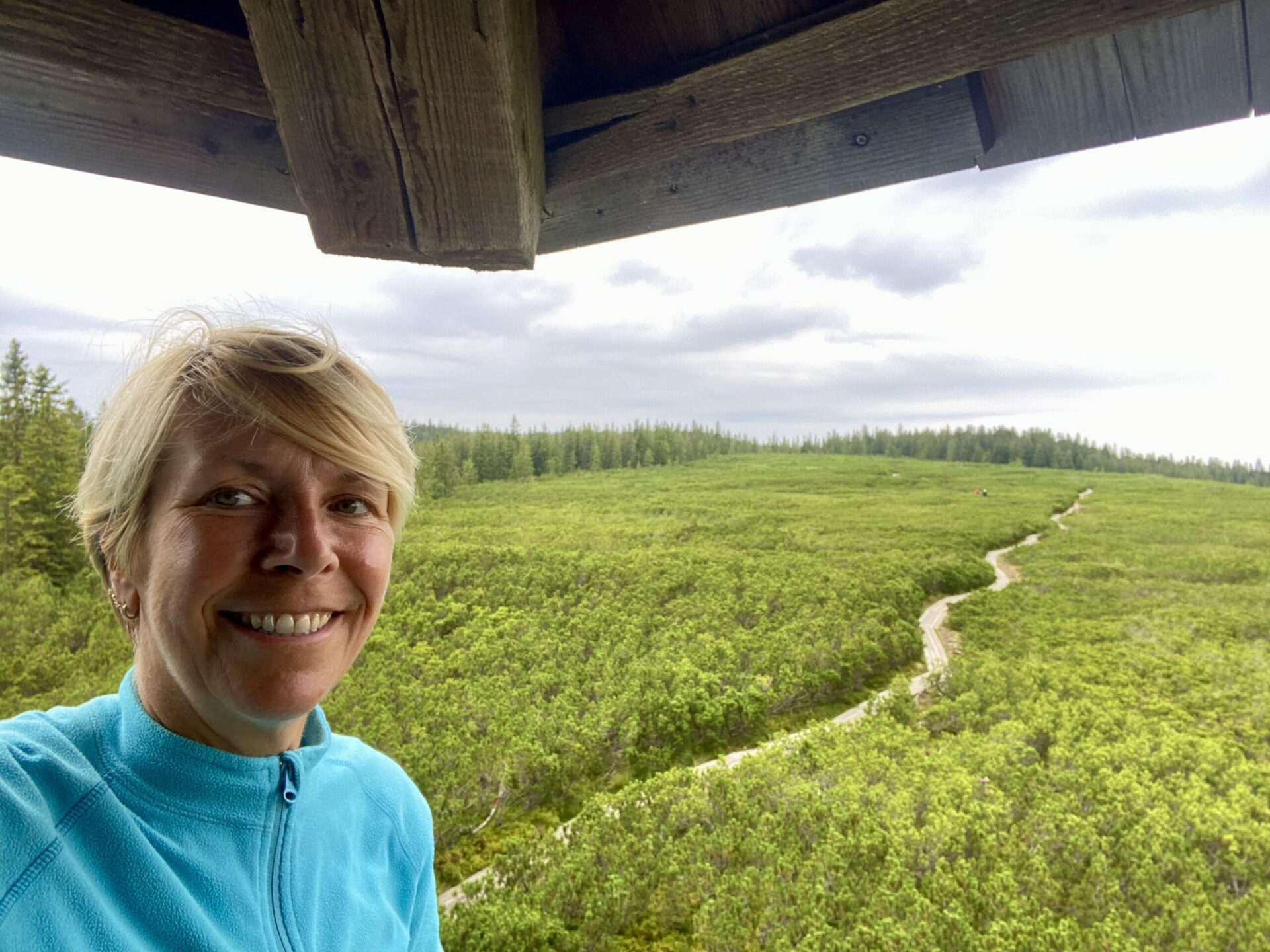 In Rogla I am alone at the camper place, which is a pity because I find it a bit exciting in this place. The weather is getting worse and it's getting foggy too. At night the camper van is shaking from the wind. In the morning it is cold and foggy we walk for half an hour in Rogla and I skip the hike Koca na Peseku, too bad but the weather is really too bad.
The past six months I have not drunk alcohol, but I did not want to leave Slovenia without tasting the local wine and that is indeed GREAT wine! My tour in Slovenia comes to an end here and I enjoyed it so much. I feel sLOVEnia!
I am continuing my trip to Croatia, do you want to travel with me? Then click on this link! https://www.marianaroundtheworld.com/en/europe/inland-croatia/
Would you like to see more photos or videos? Follow me on FB or Insta!