My tour through undiscovered Taiwan takes about 3 weeks and I'm halfway through now. I continue my journey to Taitung!
Taitung
Near Taitung is the Jhihben forest park with a hot spring. The walking route I choose takes about an hour and on the way, I see all kinds of special plants and trees such as the tree with a thousand roots (Thousand Root Banyan).
During the coffee break I chat with a group of locals and these friendly people offer me half a lunch with fruit and tea eggs. Guess what, the eggs are boiled in tea. It's a delicacy in Taiwan, as far as I'm concerned, they actually taste almost the same as regular boiled eggs?
Swimming cap = mandatory in the hot spring!
There are no tourists in the spa and few people speak English. So I stand out as a westerner, not a problem for me. I am introduced to Dutch Barry and his wife Sonia. That's great a Dutchman here!
They have a hostel in the town of Dulan near Taitung and later they offer me a lift back to the city. We also stop at the market for daily shopping. The two nights after I stay in the hostel in Dulan, that's how it goes.
Dulan
In some villages I find it difficult to find a restaurant/coffee bar for breakfast, but here in Dulan there is a toast-and-egg bar next door, nice and easy. Coffee with milk and sugar is also ready, do you want that? Then they heat it up in the microwave.
I am going to hike the Dulanshan Trail today and Barry & Sonia drop me off at the start of the trail. It starts easy but the 2nd half is not very easy and I often wonder what I'm doing here.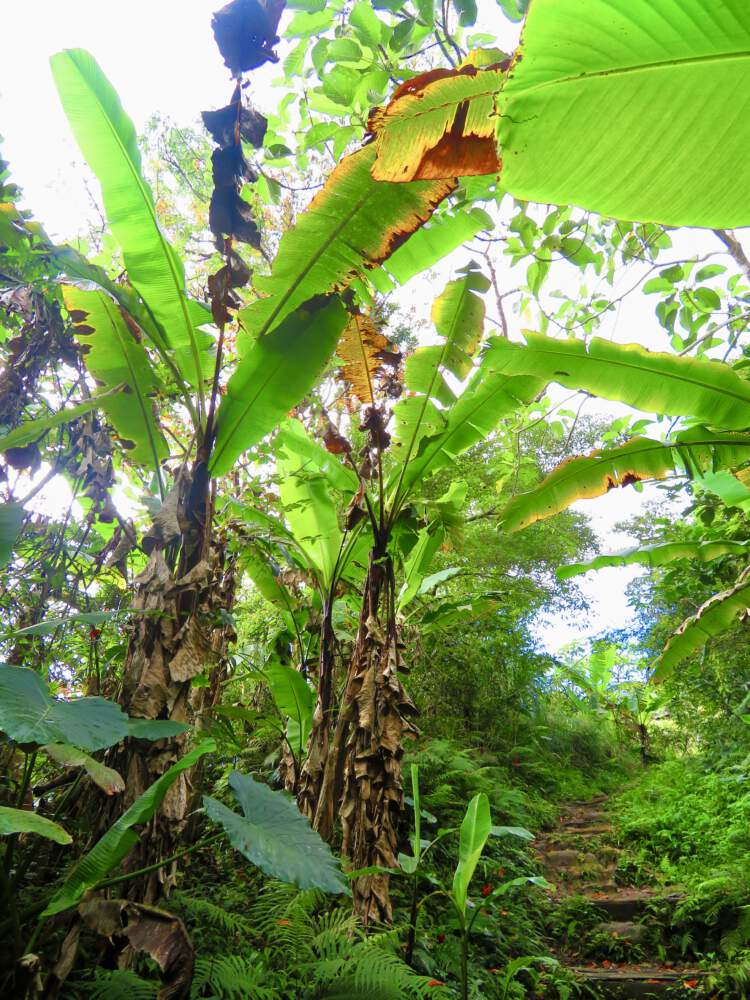 Where it is a bit steeper or where there is no trail, there are ropes to pull you up. Wow what a climb, I actually have little experience with this. I'm still wondering how on earth I'm going to walk back.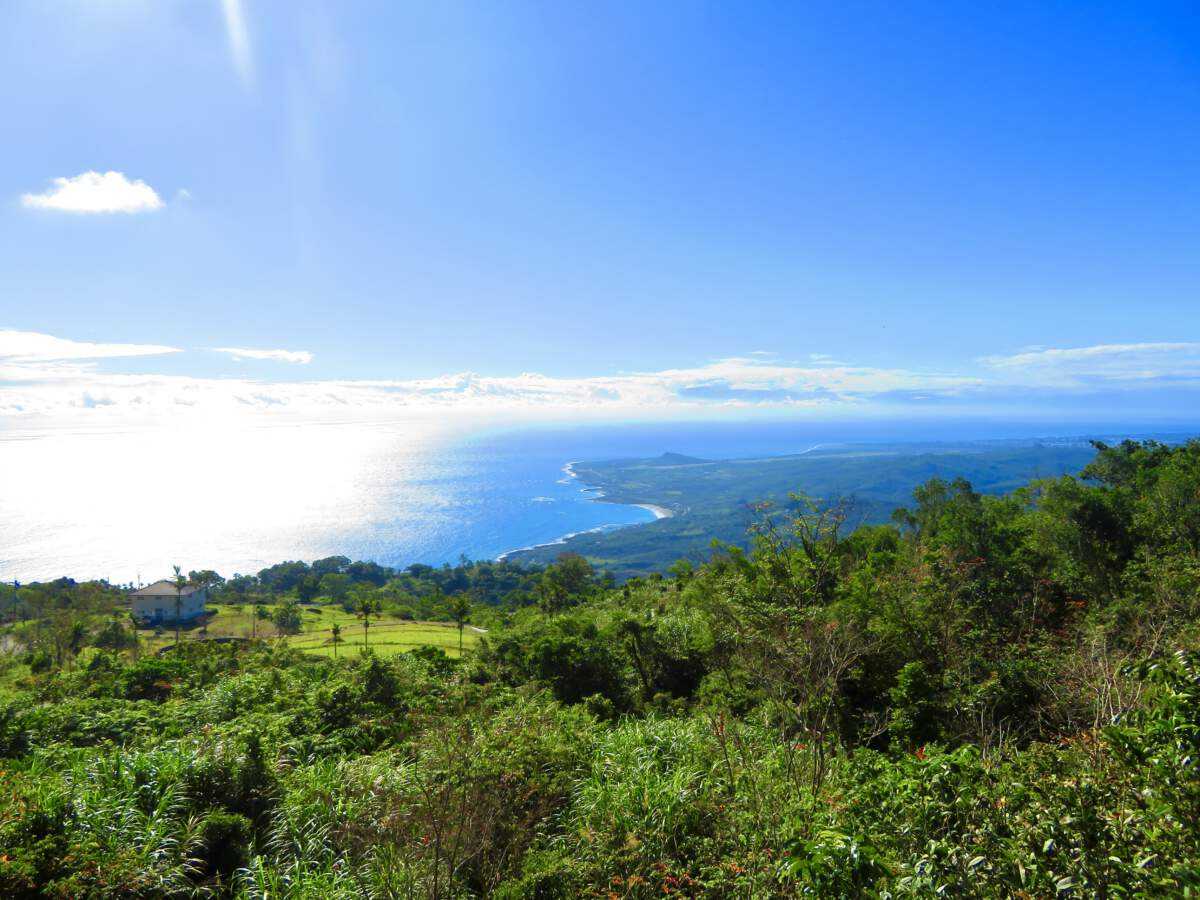 The way back is indeed difficult to walk. After an hour I fall and sit right on top of a tree root with my tailbone Ouch! Two ladies who pass me are waiting at the end of the trail to offer me a lift to the village. That works out well with that sore tailbone, really super friendly people in Taiwan.
Hitchhike
I've been offered a lift so many times now that I decide to hitchhike for the first time in my life. In the supermarket I ask for a piece of cardboard and the employee even writes Taitung in Taiwanese on my plate, great! After half an hour Ellen stops, she is on her way to church. She is Taiwanese and speaks English, nice we can chat! At the station we take a selfie and as she drives away, waving, she says: God Bless You!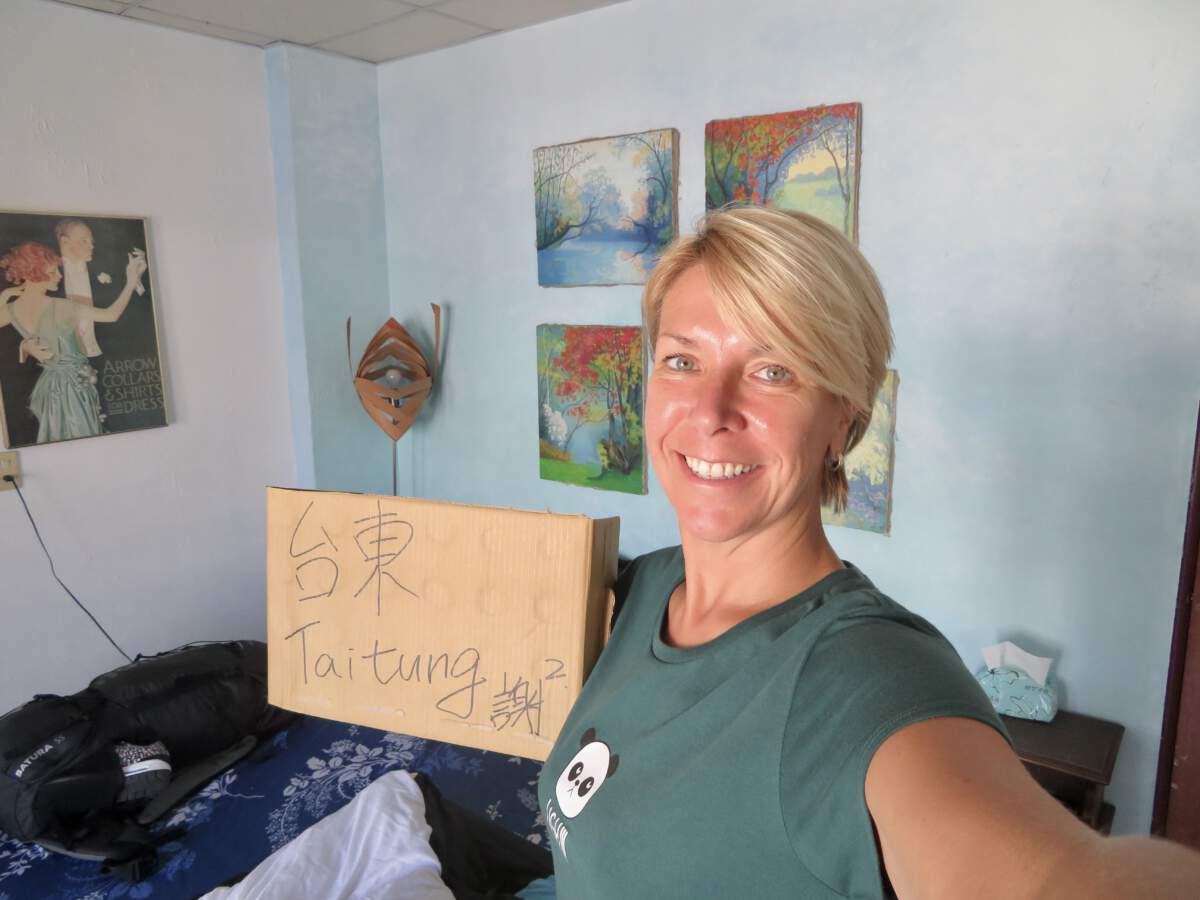 Taiwan is located on two tectonic plates, which causes the earth to shake regularly and you can feel it here. According to the locals it's a matter of 'no worries' nothing happens, but I'm glad I'm leaving for the south of the island.
Kenting National Park
A bit of hassle with the bus. I'm late for the bus to Kenting National Park, it left at 6 AM, okay that is very early. Well fine, but I can't take the next bus to the town of Kenting because I don't have the correct money. Whoah! Okay I take another bus line and after another 5 km walk I am at the entrance.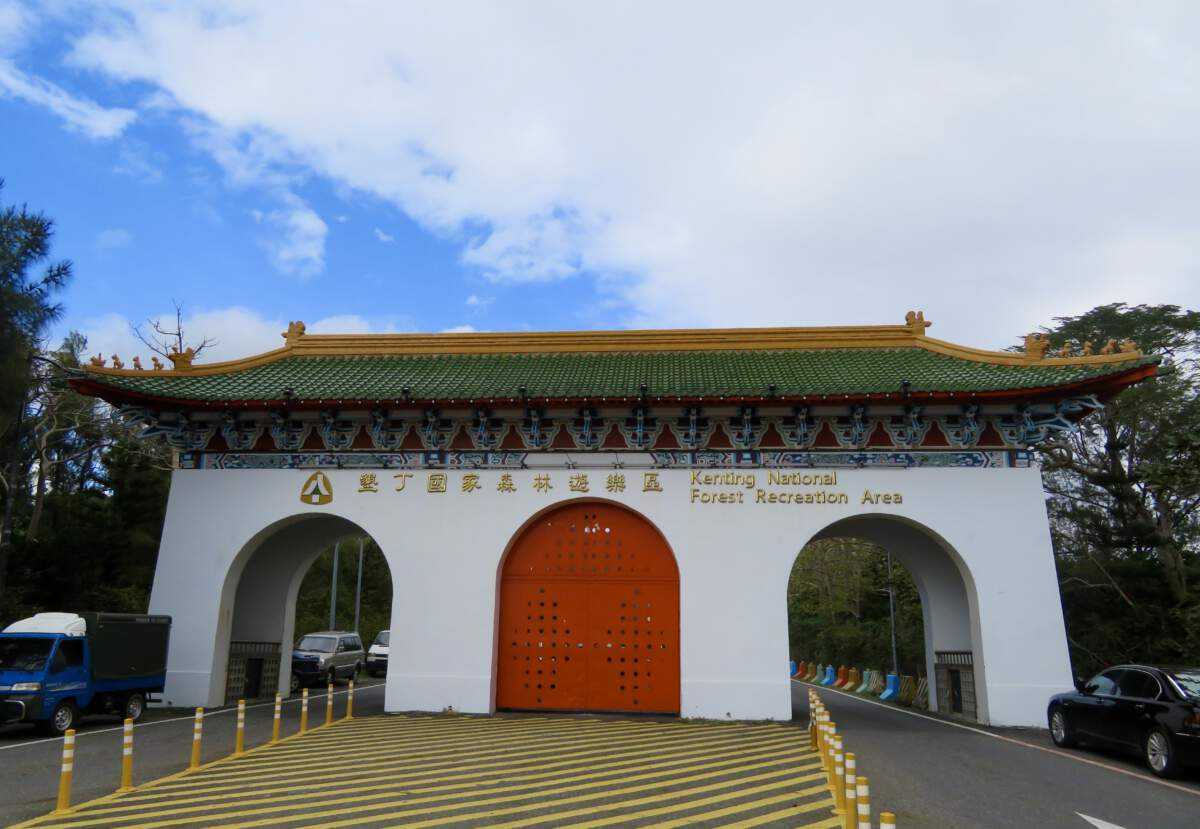 I get a lift to the visitor center, walk around for an hour, enjoy the beautiful view from the tower and get another lift to the entrance of the park. Once there I also get an umbrella because it is pouring with rain. Wow Taiwan is overflowing with kindness.
Island Liuqiu
I travel by bus to Dongang and from there I take the ferry to the island of Liuqiu. It is a small island and I walk along the east coast to the south and across the island back to the harbor, 15 km in total.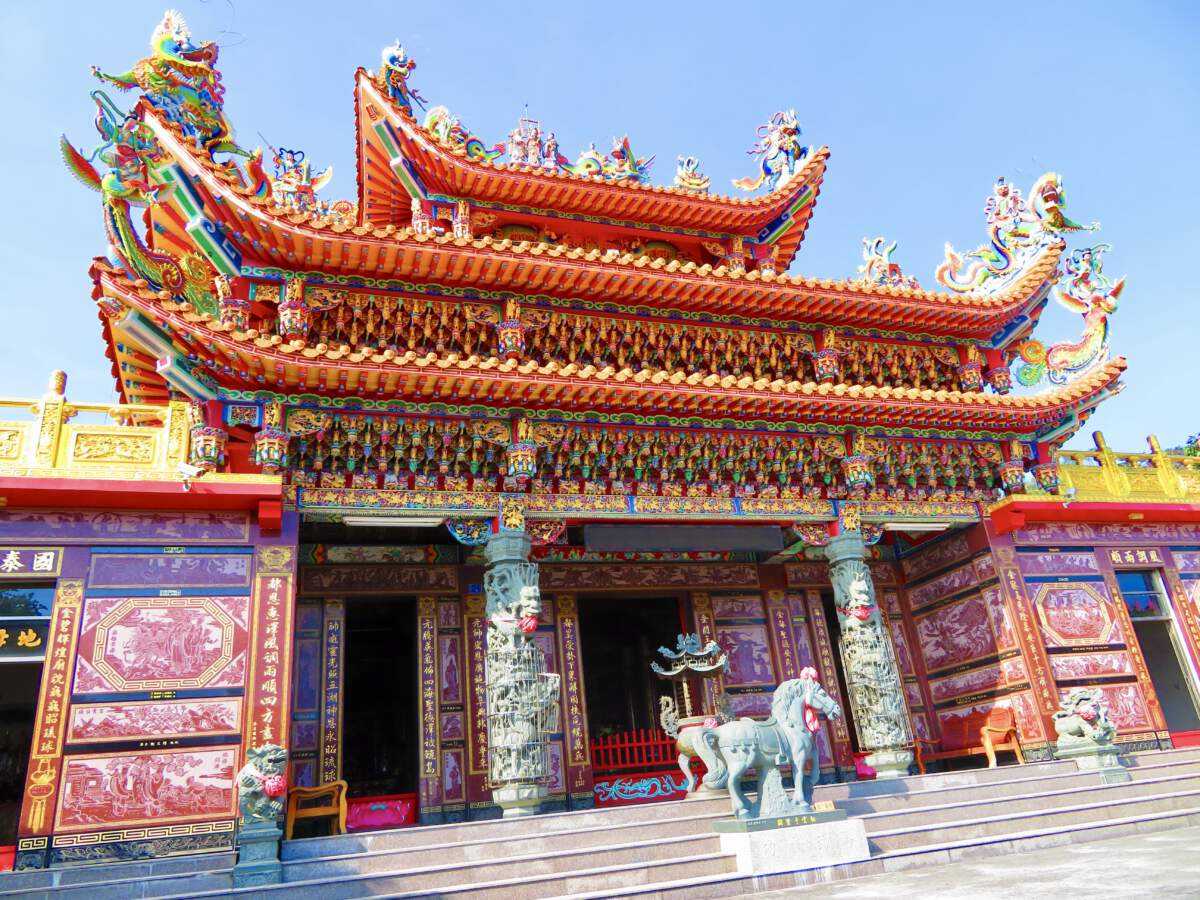 It is lovely sunny warm weather and at the beaches where I stop I see beautiful rocks, coral and even a few turtles! Unbelievable they just swim off the coast, nature is so beautiful.
By the way, everyone rides a scooter here, haha ​​I'm the only one who walks!
Dongang
Back in Donggang I've a lot of fun because I ride a bycicle and ride through the city as if I have lived in Donggang for years.
I filmed it too!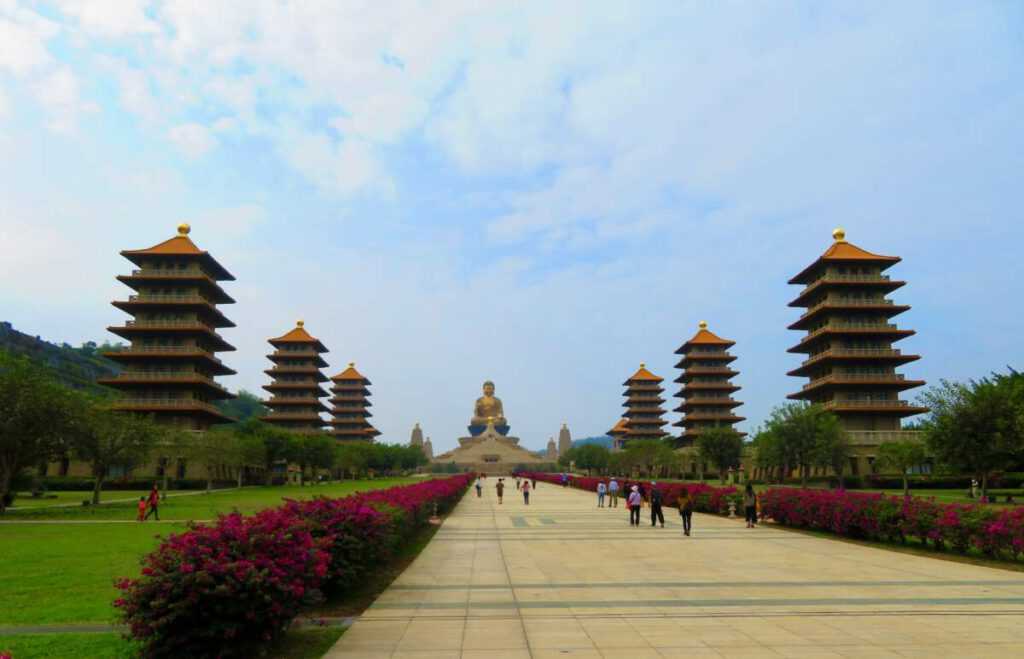 Fo Guang Shan Museum in Kaohsiung
The Fo Guang Shan Museum is a very large Buddhist center. There is a museum, training center and temple. In addition, a huge site and a beautiful garden where you can take a walk.
Tainan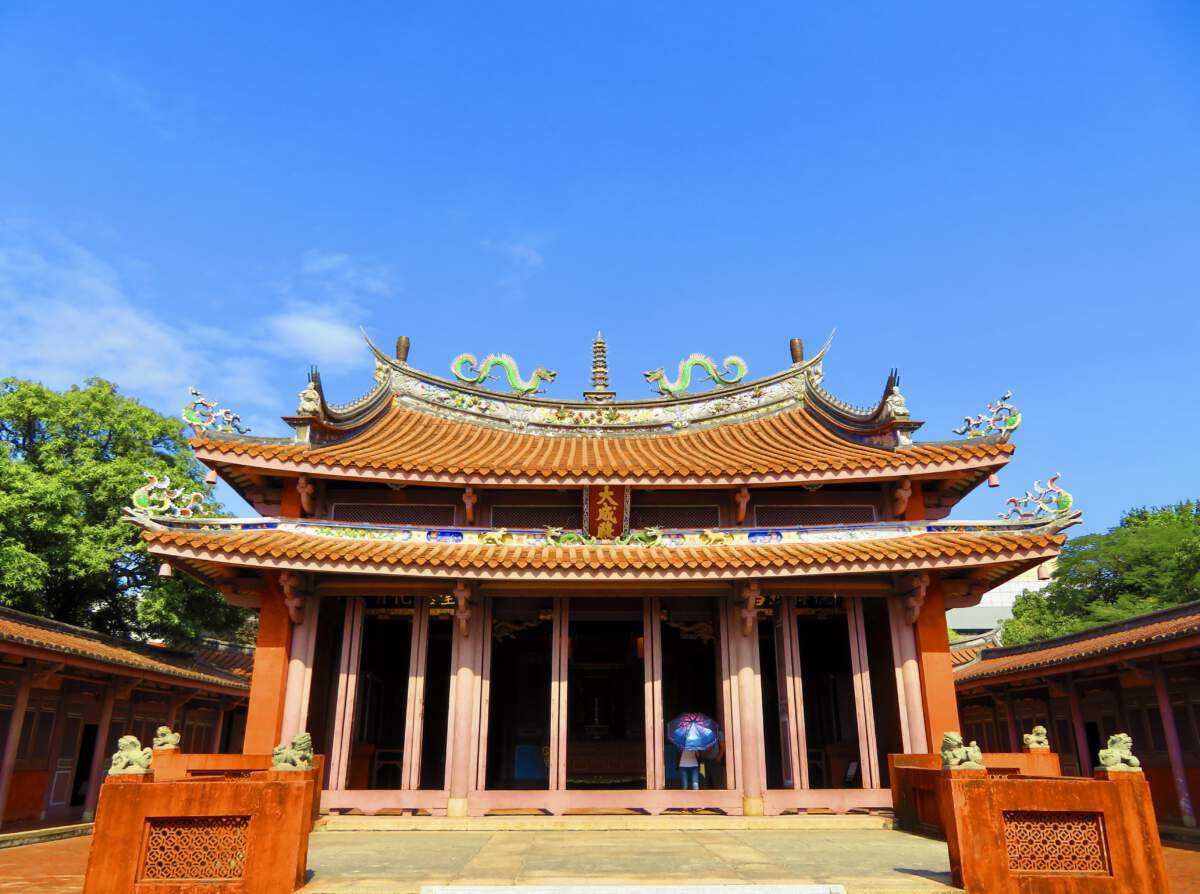 I think Tainan is a very nice city! I see the Confucius Temple, the Temple of God and the Koxinga Shrine. In this Buddhist temple I get a bracelet. The bracelet goes through the incense three times for good luck. I walk past Fort Provintia and via the nice streets of Hai An Road back to my hostel in the middle of the city.
Sun Moon Lake
On my journey north, I turn to Sun Moon Lake. It is a beautiful lake near the mountains and in the middle of Taiwan. Unfortunately, the sun has just gone behind the clouds and that gives slightly different pictures, but it remains a wonderful place to relax.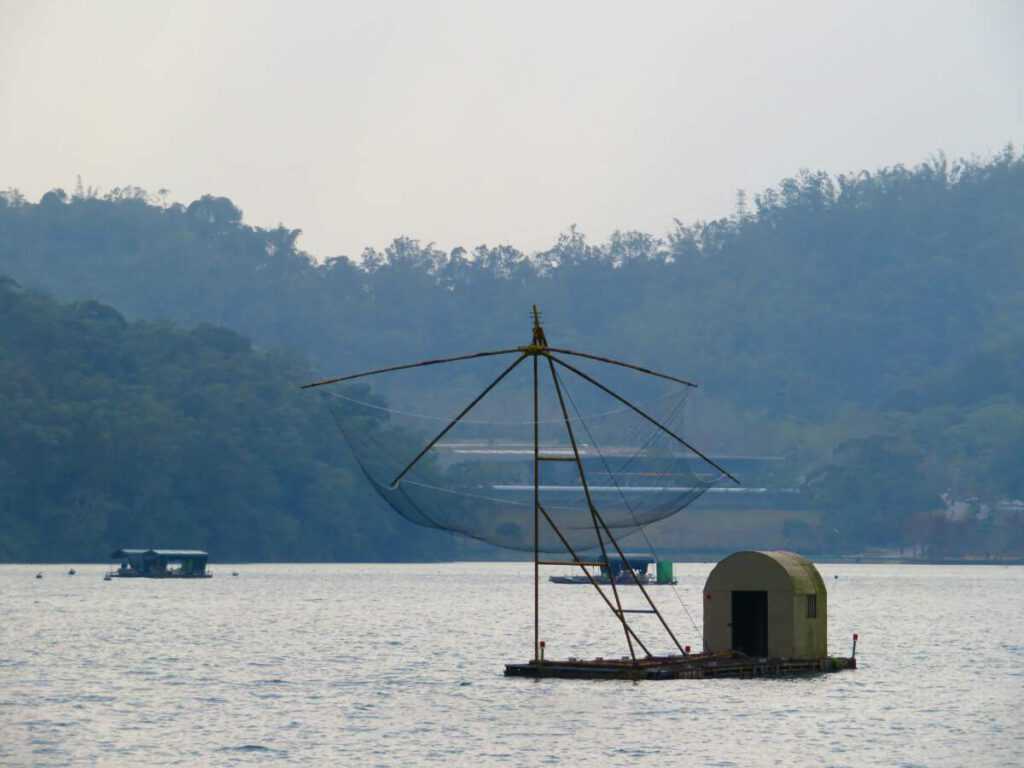 I walk along the lake and look back on my beautiful Asia trip of the past few months. I have visited 7 countries, what a varied journey! What a lucky person I am to be able to experience this. Tomorrow I am going to Taipei again and I will fly back to Amsterdam.
Bye bye Taiwan
I met so many nice, beautiful, interesting and helpful people, really different from other travels.
Thank you Taiwan, thank you lovely people, I'm going to miss you!